Trade Show and Event Associations, Resources, and Publications
Trade Show and Event Associations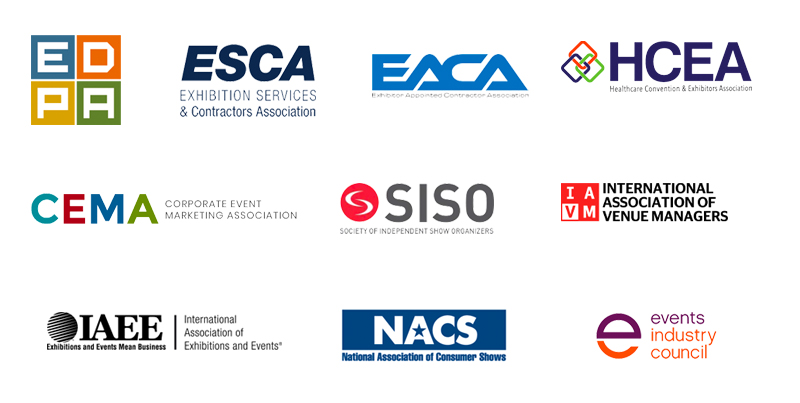 The Event and Exhibition industry in North America is represented by an alphabet soup of organizations. Each focuses on a slice of the industry like show organizers, exhibit builders, or venue managers. There's no one umbrella group. Sadly, with the exception of HCEA (which is strictly healthcare), there are no associations that represent exhibitors and trade show managers as their primary audience.
The list below summarizes the members and mission for those associations. It does not include international organizations like:
The Global Association of the Exhibition Industry (UFI)
International Association of Fairs and Exhibitions (IAFE)
International Federation of Exhibition and Event Services (IFES)
Center for Exhibition Industry Research
For 30 years, CEIR has been highlighting the importance of exhibitions in today's business environment. Its goal is to promote the image, value and growth of exhibitions. This is accomplished through producing primary research studies that prove the effectiveness and efficiency of exhibitions as a marketing medium. It then incorporates those findings within a targeted, ongoing promotional campaign.
Exhibition Services and Contractors Association
ESCA is dedicated to the advancement of the exhibition, meeting and special events industries. Through the education, information exchange and level of professionalism shared by members and their customers, ESCA promotes cooperation among all areas of the exhibition industry.
Exhibit Designers and Producers Association
The Exhibit Designers and Producers Association (EDPA), founded in 1954, is an internationally recognized national trade association with more than 400 corporate members from 18 countries that are engaged in the design, manufacture, transport, installation and service of displays and exhibits primarily for the exhibition and event industry. Its purpose is to provide education, leadership and networking for the advancement of its members and the exhibition industry.
Healthcare Convention Exhibitors Association
The Healthcare Convention & Exhibitors Association (HCEA) is a trade association representing organizations united by their common desire to increase the effectiveness and quality of healthcare conventions and exhibitions as an educational and marketing medium. HCEA promotes the value of exhibits as an integral part of healthcare meetings. Since 1930, HCEA has provided healthcare exhibitors, medical associations, and suppliers a forum for the exchange of mutually beneficial information and ideas.
Exhibit Appointed Contractor Association
The Exhibitor Appointed Contractor Association represents and supports the interests of EACs and all other organizations that provide exhibit services. The mission of the EACA is to create tangible value for its members, and the entire trade show industry, by leveraging the combined strengths of the EAC community. We do this by:
Raising the profile of member companies to prospective clients by providing easy access to member services and locations on our web site
Using the member's collective buying power to obtain advantaged pricing on significant cost centers like supplies and equipment, payroll services, and workers comp, health and liability insurance.
Developing operational tools like the EACA mobile app which allows members to access project critical data and information on a real time basis.
Creating initiatives to assist members to identify and recruit new talent through our collaboration with Skills USA.
And, conducting routine surveys of the membership, and the industry, to provide EACA members with data to inform strategic planning.
International Association of Exhibitions and Events
IAEE promotes the unique value of exhibitions and other events that bring buyers and sellers together such as road shows, conferences with an exhibition component, and proprietary corporate exhibitions. IAEE is the principal resource for those who plan, produce and service the industry.
International Association of Venue Managers
Representing public assembly venues from around the globe, IAVM's active members include managers and senior executives from auditorium, arenas, convention centers, exhibit halls, stadiums, performing arts centers, university complexes, and amphitheaters.
Corporate Event Marketing Association
CEMA is a thriving community of corporate event marketers. We serve all senior-level event marketers in a corporate environment. The diversity of our corporate membership continues to expand, and our recent acceptance as members of the Events Industry Council (EIC) have enabled us to expand our reach even further. Our differentiator is our non-selling, peer-to-peer environment. Conversations among participants at our events focus on best practice sharing and knowledge sharing. Relationships are first and foremost. Professionals do business with other professionals they trust. CEMA facilitates those connections and lifelong industry friendships. CEMA members engage in person through educational and networking opportunities offered each month around the country.<
Canadian Association of Exposition Management
CAEM is the Canadian Association of Exposition Management. It is Canada's national association of professional individuals involved in managing, planning and producing trade, consumer and professional expositions and similar specialized events, as well as companies providing products and services to these events. Together it works to ensure the industry is heading in a direction that will benefit everyone. It provides valuable industry-specific services, programs, and products, including a newsletter, unique publications, employment referral, seminars, an annual conference, professional certification and industry research.
Event Marketing Institute
The Event Marketing Institute is a think tank, educator, and global professional resource dedicated to the advancement and development of best practices, insights and business intelligence for individuals and companies using live marketing as a strategic marketing initiative. EMI serves as a catalyst for innovative thinking in event marketing strategies, tactics and measurement.
Society of Independent Show Organizers
The Society of Independent Show Organizers has been dedicated to meeting the needs of the for-profit show organizer through networking, the exchange of ideas and experiences, and the ability to learn from each other in a non-competitive and candid environment.
Professional Convention Management Association
PCMA represents more than 6,000 meeting industry leaders throughout the globe.With 17 chapters in the United States, Canada and Mexico, our members include planner and trade show/exhibit professionals, suppliers, faculty, students and Emeritus.
Industry Shows

EXHIBITORLIVE
https://www.exhibitoronline.com/live/2020/index.asp
North America's largest exhibition of exhibit/event marketing products: 300+ suppliers. The industry's only professional certification program with university affiliation: CTSM.
GlobalShop
Retail designers and brand marketers find the most innovative concepts, newest products and services to create unique store design and in-store marketing solutions. The event is the largest annual trade show of its kind in the world, featuring more than 800 exhibitors of fixtures, digital signage, visual merchandising and in-store marketing products. Experts in store design and shopper marketing and insights are featured as part of GlobalShop's conference program which has hosted more than 50,000 attendees.
IAEE Expo Expo
Expo! Expo! IAEE's Annual Meeting & Exhibition is the industry's must attend event for the most interactive networking and experiential education opportunities will be part of the action-packed agenda. Expo! Expo! 2014 will reveal the most essential ideas and the latest technologies in face-to-face events revealing exceptional concepts for all attendees.
Trade Show Publications
Trade Show News Network
The Trade Show News Network (TSNN) is the world's leading online resource for the trade show, exhibition, and event industry since 1996. TSNN owns and operates the most widely-consulted event database on the Internet, containing data on more than 17,500 trade shows, exhibitions, public events and conferences. It also offers over 360,000 seminars through a strategic partnership. TSNN helps facilitate the exchange between buyers and sellers to achieve a successful venture with over 137,000 registered website users, 35,000 bi-monthly newsletter subscribers and LinkedIn groups.
Exhibitor Media Group
Exhibitor Media Group is the parent company of EXHIBITOR magazine, Corporate EVENT magazine, EXHIBITOR2009, EXHIBITOR FastTrak, ExhibitorOnline and CTSM (Certified Trade Show Marketer), the exhibit marketing industry's only university-affliated professional certification program. Founded in 1982, the key objective of Exhibitor Media Group is to be the indispensable source of expert education on trade show and corporate event marketing, through the delivery of high value and demonstrably superior solutions via seminars, conferences, publications and the Internet.
Exhibit City News
With a national distribution of 15,000 and read by more than 37,500 industry professionals, Exhibit City News is the only newspaper covering the meeting, convention and tradeshow industries. Committed to being a voice for the meeting, convention and tradeshow industry while maintaining a reader-friendly format, ECN boasts a broad-based readership. The ever-growing subscriber base includes CEOs, CFOs, VPs, managers, meeting planners, suppliers, facility personnel, account executives, show floor workers and exhibitors.
Event Marketer Magazine
Event Marketer was created out of the belief that the next chapter in the growth of the event industry—which encompasses corporate events, exhibits, and environments—will be a focus on experience design, that tangible quality that fuses creativity with structure to stimulate a reaction and communicate a message to a defined audience.
Creative Magazine
Creative Magazine has served over 15,000 point-of-purchase display, exhibit and sales promotion buyers for the past 40 years with new exciting and creative ideas. Every issue of Creative Magazine shows you the latest display and promotion campaigns in full color, along with the latest news and research in the Point of Purchase display, trade show exhibit and sales promotion fields. CREATIVE is published six times a year.
Trade Show Executive
Trade Show Executive is committed to providing news, views and tools to the managers of shows large and small, in every industry from automotive to medical to woodworking, so that show executives can turn innovative ideas into competitive edge.
Contact Us
For more information about trade show or event marketing, give us a call or Contact Us. We welcome the opportunity to assist you with your next event.
Mel White
Classic Exhibits Inc.
503.652.2100